Document Legalization for China Consular Service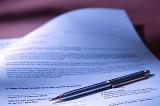 DOCUMENT LEGALIZATION IN THE CONSULATE GENERAL OF CHINA
In order to take effect in China, a foreign document must be legalized by the Chinese consular service.
LEGALIZATION OF CORPORATE DOCUMENTS
Documents can only be legalized by the Chinese Consulate once the signatures on the document are recognized, certified by a notary and authenticated by organs of the provincial government
We provide with Notary, Authentication and Document Legalization Service.
A document with more than two pages must be bound as a volume to avoid any substitutions.
Passport Copy of the Applicant should be submitted. If the document is a business license, a photocopy of the passport of the company's legal representative and the original company document that can prove the person's legal status.

Residents of Manitoba requesting Document Legalization Service only can send document copies certified by a Notary and Authenticated in Manitoba Finance Dept. of Consumer & Corporate Affairs Division 1034-405 Broadway, Winnipeg, MB, R3C 3L6 Tel: (204)945-2654.
SERVICE FEES (IN CANADIAN DOLLARS)
Service

5 days /processing time

2 days /processing time

Civil Document


Commercial Documents


180.00

260.00


295.00

380.00


Authentication

100.00

135.00
DOCUMENT LEGALIZATION FOR MARRIAGE REGISTRATION IN CHINA
Overseas Chinese and foreigners wishing to marry a Chinese citizen in China should be acknowledged that the legal marriage age in China is 22 and above for male, 20 and above for female according to the Chinese law and bigamy is illegal. Before going to China, the following documents should be prepared:
Non-Spouse Certificate/Single Status Affidavit which indicates your name, sex, date and place of birth, nationality, personal identification document number,

marital

status (never married or divorced or widowed) and the name of your

fiancée/fiancé

.
The divorced should provide Divorce Certificate, ex-spouse's nationality certificate (or declare ex-spouse's nationality). If either party is Chinese citizen, the divorce certificate which is emanated from the country outside China should be approved by the local intermediate Chinese court first.
The above-mentioned documents are invalid unless they are first notarized by a local Notary Public/Lawyer and then authenticated by the local

provincial

authority (valid for 3 months since the date of legalization) and finally Legalized by the Chinese

Embassy

or Chinese Consulate-General (valid for 6 months from the date of authentication).
DOCUMENT LEGALIZATION FOR CHILD ADOPTION IN CHINA
Canadians or overseas Chinese wishing to adopt children in China could apply to adoption organization entrusted by Canadian Government which will forward the application to China Center of Adoption Affairs for approval. Upon application, the following documents should be submitted:
Certificate of marital status
Certificate of profession, income and property
Certificate of health examination
Certificate of criminal record
Certificate of child adoption approval by the Canadian Government

Family background report, including the status of the applicant, the qualification of the adoption, family conditions, health history, adoption motive and features suitable for the care of the child
The above mentioned documents should be notarized by a notary office and authenticated by the relevant office of the Canadian Government and by the Embassy or Consulate of China in Canada.

Adoption and Operational Services
Children's Services Branch China Center of Adoption Affairs
Ministry of Community and Social Services No.7,Baiguang Rd. Zhongmin Bldg.
2 Bloor Street, West , 24th Floor Xuanwu District, Beijing
Toronto, Ont. M7A 1E9 People's Republic of China 100053
Tel: 416-327-4730 Tel: 86-10-63575768/63575785
Fax: 416-3270573 Fax: 86-10-63575769/63575786